The Bavarian Prime Minister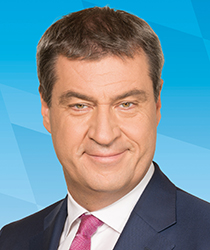 Welcome to Nuremberg!
The Bundessiegerzuchtschau of the Verein für Deutsche Schäferhunde (SV) e.V. – National Conformation Show – marks a highlight in the yearly calendar of many dog lovers. On this competition animals with an especially outstanding performance are presented to the public. They are beautiful and strong, physically and mentally healthy, powerful, obedient, and well balanced.
German Shepherd Dogs enjoy an excellent reputation all over the world, and that applies for both, for family dogs as well as for guard dogs and working dogs who were tried and tested in many ways. The event organizer is expecting approximately 1500 dogs – males and females – from fifty different nations from all over the world.
Thanks, and recognition go to the Verein für Deutsche Schäferhunde (SV) e.V. The organization is committed in the field of animal protection rights and of appropriate standards regarding breeding and dog keeping, always guided by the principles of the motto "Out of respect for Dogs".
We wish the organization the best of luck and success with their work, also in the future to come – and much joy with the German Shepherd Dog breed!
Dr Markus Söder
Minister of Bavaria for the Interior, Sports, and Integration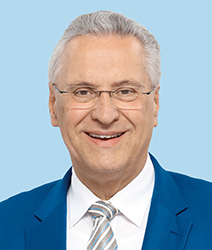 Dear Friends and Aficionados of the German Shepherd Dog breed,
Dear Spectators and Guests,
from September 22nd to September 25th, 2022, once again the elite of German Shepherd Dogs from all over the world meets in the town of Nuremberg to join the competition held at the popular SV-Bundessiegerzuchtschau – National Conformation Show. It is a great and exciting event which will once again attract many spectators to the Max-Morlock Stadium in Nuremberg! This time, the event shall be held in remembrance of the late Clemens Lux who coined the management and reputation of the SV and the headquarters offices with great passion over many decades. We shall always honour his legacy.
This year, approximately 1500 females and males will show their beauty and grace and demonstrate their skills. And also in this year, nothing will escape the attention of the judges' eyes: vitality, charisma, beauty, stamina and above all health criterion is what counts most. With their excellent senses of perception, of smell and hearing they are indispensable helpers – still to this day. They show great readiness to learn, a high measure of resilience in physically and mentally stressful situations, they have enormous stamina, and they are fast and reliable. For that reason, the German Shepherd Dog Breed is so very predestined to be used as working dogs and is the number one in the field of service and rescue dogs! In my position as Minister of the Interior for Bavaria I am therefore an avowed enthusiast of this wonderful four-legged friend.
I wish the SV-Bundessiegerzuchtschau to go well, the best of luck for the competitors and for their dogs for the examinations ahead of them, and for the spectators a good time and lasting memories!
Joachim Herrmann
Bavarian State Minister for the Interior, Sports, and Integration
Member to the Bavarian Parliament
Lord mayer of the town of Nuremberg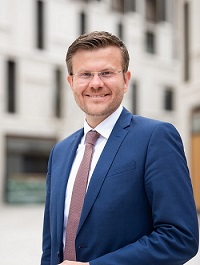 Dear Competitors to the SV-Bundessiegerzuchtschau
Dear Friends and Aficionados of the German Shepherd Dog breed,
I am very happy that you have once again come to Nuremberg in 2022, and I take great pleasure in welcoming you at the Max-Morlock Stadium!
You invest a lot of time and money into your dogs. Their wellbeing is always paramount to you. Our legislators took this into account while working on the latest amendments to the animal's welfare act that banned spiked and prong collars and other painful utensils in dogs training. And that is the right thing to do!
Humane dogs training does neither require painful equipment nor psychological pressure. Being experienced dog trainers, you are well familiar with all this because you train your dogs based on the principle of positive reinforcement. I am pleased to know that since I am a true animal lover.
The results of your work are remarkable because dogs who were trained in that fashion are balanced, self-confident and obedient. They remain sovereign in stressful situations since they can always and in every situation rely on you – the two-legged partner.
Also in this year, dogs from different regions in Germany and beyond come to Nuremberg. This emphasizes the importance of this event. All of you who come to Nuremberg to have your dogs evaluated – whether from other parts of Germany or from all over the world – do not shun the expenses and efforts of a long way to travel.
I know that at the Max-Morlock stadium all requirements for this perfectly organized event shall be met again. In this year, the requirements for the accommodation and care of the dogs have once again been specified and amended. These measures have the objective that the event can be held again in the future to come and to the delight of everybody.
I wish all competitors the best of success and much joy with their animals, and all spectators and guests a good time and interesting days in Nuremberg.
Marcus König
Der Bayerische Ministerpräsident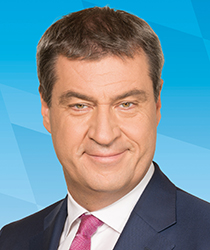 Herzlich willkommen in Nürnberg!
Die Bundessiegerzuchtschau des Vereins für Deutschen Schäferhunde (SV) e.V. setzt einen Höhepunkt im Jahreskalender vieler Hundefreunde. Bei dieser Veranstaltung werden besonders überzeugende Tiere vorgestellt. Sie sind schön und kräftig, gesund an Leib und Seele, leistungsfähig, gehorsam und ausgeglichen.
Schäferhunde genießen in aller Welt einen ausgezeichneten Ruf. Das gilt sowohl für die Tiere in privater Haltung als auch für die vielfach bewährten Schutz- und Gebrauchshunde. Die Veranstalter rechnen mit der Teilnahme von 1.500 Hunden aus fünfzig Nationen.
Dank und Anerkennung gelten dem Verein für Deutsche Schäferhunde (SV) e.V. Er engagiert sich unter dem Motto "Aus Respekt zum Hund" für Tierschutz und angemessene Standards in Zucht und Haltung. Allen Freunden dieser Tiere bietet er Unterstützung mit Rat und Tat.
Weiterhin Glück und Erfolg bei dieser Arbeit - und viel Freude mit den Deutschen Schäferhunden!

Dr. Markus Söder
Bayerischer Staatsminister des Innern, für Sport und Integration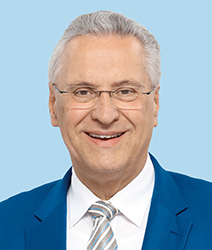 Liebe Freundinnen und Freunde des Deutschen Schäferhundes,
liebe Zuschauerinnen und Zuschauer,
vom 22. bis 25. September 2022 trifft sich wieder die Elite der Deutschen Schäferhunde aus aller Welt, um sich der Konkurrenz auf der beliebten SV-Bundessieger-zuchtschau zu stellen. Ein großartiges und spannendes Ereignis, das wieder zahlreiche Zuschauerinnen und Zuschauer ins Max-Morlock-Stadion in Nürnberg locken wird! Dieses Mal findet die Veranstaltung in Gedenken an den verstorbenen Clemens Lux statt, der über Jahrzehnte hinweg die Geschäftsführung und das Ansehen des SV und der Hauptgeschäftsstelle mit großer Leidenschaft geprägt hat. Wir werden ihm stets ein ehrendes Andenken bewahren.
Bei der SV-Bundessiegerzuchtschau stellen dieses Jahr über 1.500 Hündinnen und Rüden bei diversen Aufgaben ihr Können und ihre Anmut unter Beweis. Und den Richterinnen und Richtern wird auch heuer nichts entgehen: Vitalität, Ausstrahlung, Schönheit, Ausdauer und vor allem Gesundheit sind das, was zählt. Mit ihrem ausgezeichneten Wahrnehmungs-, Geruchs- und Hörvermögen sind die Deutschen Schäferhunde bis heute unverzichtbare Helfer. Sie zeichnen sich durch ihre große Lernbereitschaft, ihre hohe Belastbarkeit in physischen und psychischen Stresssituationen, ihre Ausdauer, Schnelligkeit und Zuverlässigkeit aus. Deswegen ist der Deutsche Schäferhund so prädestiniert für die Arbeit als Gebrauchshund und weltweit die Nummer eins im Diensthunde- und Rettungswesen! Als Bayerischer Innenminister bin darum auch ich bekennender Fan dieses wunderbaren Vierbeiners.
Ich wünsche der Bundessiegerzuchtschau einen schönen und guten Verlauf, den Teilnehmerinnen und Teilnehmern mit ihren Hunden viel Glück bei den Prüfungen und allen Zuschauerinnen und Zuschauern viel Spaß und bleibende Erinnerungen!
Joachim Herrmann
Bayerischer Staatsminister des Innern, für Sport und Integration
Mitglied des Bayerischen Landtags
Oberbürgermeister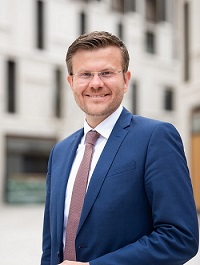 Sehr geehrte Teilnehmerinnen und Teilnehmer der Bundessiegerzuchtschau,
liebe Freundinnen und Freunde des Deutschen Schäferhundes,
ich freue mich, dass Sie auch 2022 wieder nach Nürnberg gekommen sind und heiße Sie bei uns im Max-Morlock-Stadion herzlich willkommen!
Sie investieren viel Zeit und Geld in Ihre Hunde. Dabei steht das Wohl der Tiere immer im Vordergrund. Dem hat jetzt auch der Gesetzgeber in der neuesten Fassung der Tierschutz-Hundeverordnung Rechnung getragen, indem Stachelhalsbänder und andere für die Hunde schmerzhafte Mittel zu deren Erziehung verboten worden sind. Das ist gut so! Die tierschutzgerechte Hundeausbildung kommt ohne Schmerzen verursachendes Zubehör und ohne psychischen Druck aus. Ihnen als erfahrene Hundeausbilder ist dies alles bekannt, denn Sie trainieren nach dem Grundsatz der positiven Verstärkung. Ich bin ein ausgesprochener Tierfreund, daher freut mich das sehr. Die Resultate dieser Arbeit können sich sehen lassen, denn solche Hunde sind ausgeglichen, selbstbewusst und gehorsam. Sie reagieren auch in Stresssituationen souverän, da sie sich auf Sie, den 2-beinigen Partner, in jeder Situation verlassen können.
Auch in diesem Jahr kommen wieder Hunde aus vielen verschiedenen Regionen Deutschlands und darüber hinaus zu uns nach Nürnberg. Dies unterstreicht die Wichtigkeit dieser Veranstaltung. Denn Sie alle, die Sie aus Deutschland oder aus anderen Ländern zu uns nach Nürnberg kommen, um hier bei uns ihre Tiere bewerten zu lassen, scheuen die mit Kosten und Mühen verbundenen weite Wege nicht.
Ich weiß, dass Sie in unserem Max-Morlock-Stadion wieder gute Bedingungen für diese hervorragend organisierte Veranstaltung vorfinden werden. In diesem Jahr wurden die Auflagen bezüglich der Unterbringung der Hunde noch einmal präzisiert und verändert. Dies mit dem Ziel, dass die Veranstaltung auch in Zukunft und zur Freude aller stattfinden kann.
Ich wünsche allen Teilnehmerinnen und Teilnehmern viel Erfolg und viel Freude mit ihren Tieren und allen Besucherinnen und Besuchern schöne und interessante Tage in Nürnberg.
Marcus König